I thought I should drop a copy in this category for some reason.

Let us say that a particular forum member is cluttering up threads and the categories and the active topics list with comments you'd rather just not even see for whatever reason. Since I'm the most prolific poster here (in the long run anyway), we'll say for example it's me.

How do you institute what amounts to your own ban of me, so that for all practical purposes I don't even exist on the forum anymore (so far as you are concerned)?
STEP 0.) You have to be a member yourself for this to work, and you have to be logged in already. Only members can quasi-ban other members. (So, um, memberize yourself and login. Then come back to this page.

)
STEP 1.) Find a hyperlink of my name somewhere on one of the pages, and click on that to bring up my user profile. (These hyperlinks can be found bunches of places: for example under a thread I started, or near the top of any of my comments, or even if I happen to be the latest poster in a thread. Another place to find that hyperlink is by clicking the "members" hyperlink near the top-right of any page, just under the site banner and between "FAQ" and "logout".)
STEP 2.) You should now see a page looking something like this.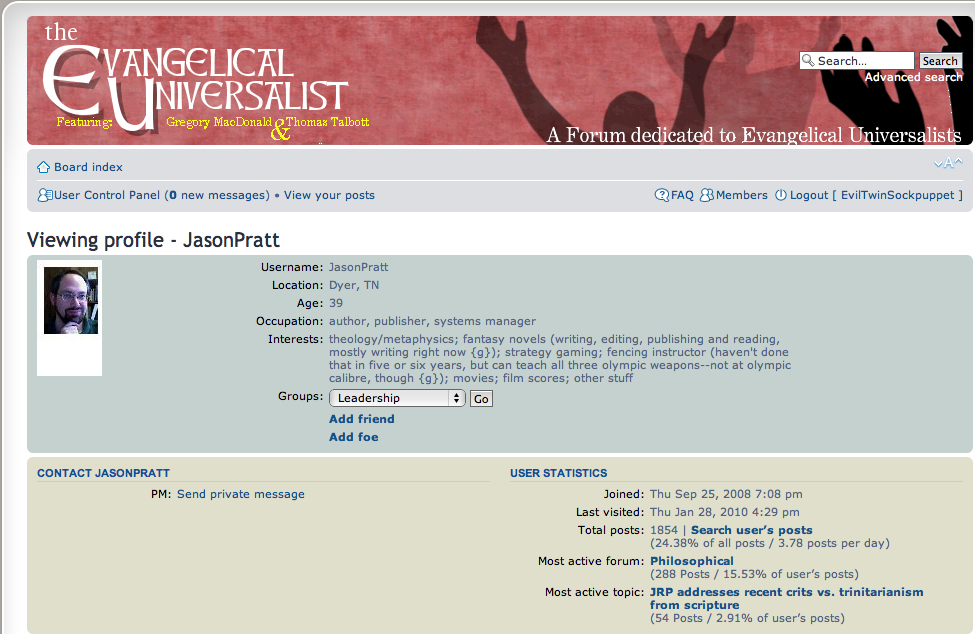 Unless you're a mod or admin you won't see a little button saying "banning" near the top of the page. Sorry.

But don't worry, the next step should work just as well.
STEP 3.) Declare this person to be your… FOE!!!
And then click the "Add Foe" button.

It's found at the bottom of the first block, in the middle. (You'll have to scroll down a little in my graphic above, up there, to see it. Or I could just be marginally less lazy and provide another graphic I guess…)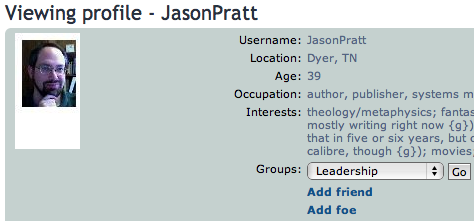 STEP 4.) I'm not sure what happens next, because I was a little worried that if I declared myself my foe, the internet would implode like that house at the end of Poltergeist. But I expect a screen will come up saying something like, "Foe this person, yes or no?" With little buttons reading "yes" and "no", or maybe "foe" and "yay" or something underneath. Click one of those buttons if so. If not, skip this step.
STEP 4.1) Follow these instructions from this comment in the official thread for this topic to do the same for quasi-banning someone from privately emailing you.
STEP 5.) Bask in the blessed quiet, and in the knowledge that you need never have to bother with me, or whoever you're foeing, again. Until the Day of the Lord to come anyway–who knows what will happen then? (See board discussions.

)
STEP 6.) Profit.
STEP 7.) Thank God for peace. (Alternately: move this step anywhere higher in the procedure, and/or repeat, as desired.)
STEP 8.) Pray for the admins and mods. (We can't foe someone. So unless we ban them for everyone, we have to put up with keeping an eye on what they're doing.)