Any murder victim is tragic, I totally agree.
There have been some notable European massacres of course.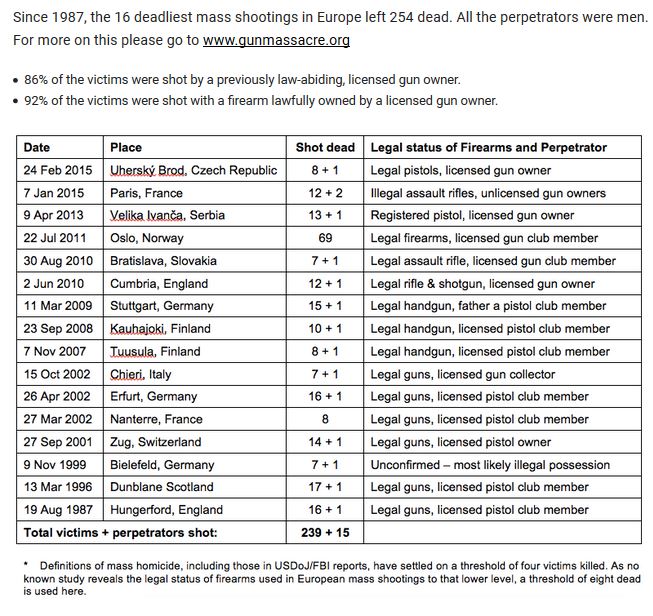 And about that 7x greater chance of getting murdered here, there are some distinctions to be made,
Check out the last paragraph, for instance: Just stuff to think about, I'm open to new info at any time so keep me posted.
A 2016 article by the American Journal of Medicine claims that homicide rates in the U.S. are 7 times higher than an average of other "high income countries." This conclusion is based on a select list of OECD nations compiled in 2010. The lowest income nation on the list is Hungary, where per capita GDP is $28,000 per year. Turkey and Mexico did not make the cut because their per capita GDPs are respectively $25,000 and $19,000. Latvia and Estonia are not on this list, presumably because Latvia joined the OECD in 2016 and Estonia joined in December of 2010. Turkey, Estonia, and Latvia have murder rates comparable to those in the U.S. Mexico exceeds the U.S. by about 4 times. Most would agree that Mexico is not "high income" but the case for excluding these other three nations is not as clear cut.
If the list were to include all of Eastern Europe, Russian and Lithuania would surpass the U.S. in homicides per capita. Only when the U.S. is compared with affluent Western nations that were never under the iron curtain does its murder rate far exceed all other in the sample. The AJM attributes this grim statistic to high levels of gun ownership in the U.S., but the authors fail to point out that two of the safest nations in the world (Switzerland and Finland) rank 3rd and 4th in per capita gun ownership.
The U.S. has almost double the gun ownership rate of Finland and (according to a table in the AJM article) 12 times the gun homicide rate. Does this mean there is a "critical mass" for gun ownership where the murder rate increases exponentially? If this is true, why do heartland states with the highest levels of gun ownership have some of the lowest murder rates in the U.S.?
Read more: https://www.americanthinker.com/articles/2018/04/why_it_is_misleading_to_compare_the_us_murder_rate_with_that_of_western_europe.html#ixzz5cS2hTdUQ
Follow us: @AmericanThinker on Twitter | AmericanThinker on Facebook