Is it wrong for Christians to be evasive? What do you think?
Well, I sometimes give this standard CIA answer - to some questions (or statements I make) here.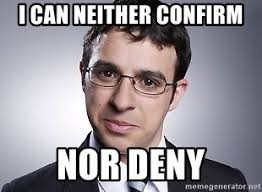 Am I being "evasive"? Or is this guy, in Mission Impossible - being "evasive"?
Or what about folks making this statement (AKA Fifth Amendment Privilege)?
I think Paul said something like he was all things to all people so that he may save some, 1st Cor 9.22 so in a way this may be evasive but in a positive way. For example he chose to live under the law to save certain Jews because he decided he had to gain their trust,
Yes, also Jesus Himself was sometimes evasive as I mention in the article. I focus on intent - is the motivation loving or deceitful?