Welcome to the forum, Nesto! Good to 'see' some new faces here now and then.
Dear Nesto: I am rather new to the forum as well, but as a fellow new member>>>>
Welcome!
The message of the Prophets rings in our ears!
The Hum of all hums=
The Prophets
"He shall come down like rain upon the mown grass; as showers that water the earth. In his days shall the righteous flourish: and abundance of peace so long as the moon endures. He shall have dominion from sea to sea, and from the river unto the ends of the earth." Ps. 72: 6-8.
" All the ends of the world shall remember and turn unto the Lord; and all the kindreds of the nations shall worship before you." Ps. 22: 27.
" All nations whom you have made shall come and worship before you, O Lord; and shall glorify your name. "Ps. 86: 9.
"Will the Lord cast off for ever? and will he be favorable no more? Is his mercy clean gone forever? does his promise fail for evermore? Has God forgotten to be gracious? has he in anger shut up his tender mercies? Selah.
And I said, This is my infirmity: but I will remember the years of the right hand of the Most High." - Ps. 77: 10.
"For he says, The Lord is merciful and gracious, slow to anger, and plenteous in mercy. He will not always chide: neither will he keep his anger forever". Ps. 103: 9.
"For his anger endures but a moment; in his favor is life: weeping may endure for a night, but joy comes in the morning." Ps. 30: 5.
"If his children forsake my law, and walk not in my judgments; if they break my statutes, and keep not my
commandments; then will I visit their transgressions with the rod, and their iniquities with stripes, nevertheless my loving kindness will I not utterly take from him, nor suffer my faithfulness to fail." Ps. 89: 30-33.
"The Lord is gracious and full of compassion; slow to anger and of great mercy. The Lord is good to all and his tender mercies are over all his works." Ps. 165: 8, 9.
" All nations whom you have made shall come and worship before you, O Lord, and shall glorify your name. "Ps. 86: 9.
"O you that hears prayer, unto you shall all flesh come." Ps. 65: 2.
" All the ends of the earth shall remember and turn unto the Lord; and all the kindreds of the nations shall worship before you." Ps. 22: 27.
"He will swallow up death in victory; and the Lord God will wipe away tears from off all faces. " Isa. 25: 8.
"Look unto me and be you saved, all the ends of the earth , for I am God, and there is none else. I have sworn by myself; the word is gone out of my mouth in righteousness, and shall not return, that unto me every knee shall bow, every tongue shall swear, surely shall say: "In the Lord have I righteousness and strength." Isa. 45: 24-27.
"He shall see of the travail of his soul and shall be satisfied."Isa. 53: 11.
"As the rain comes down, and the snow from heaven, and returns not thither, but waters the earth and makes it bring forth and bud that it may give seed to the sower, and bread to the eater, so shall my word be that goes forth out of my mouth, it shall not return unto me void, but it shall accomplish that which I please, and it shall prosper in the thing whereto I sent it." Isa. 55: 10, 11.
"Can a woman forget her sucking child, that she should not have compassion on the son of her womb? Yea, they may forget, yet will I not forget you." Isa. 49: 15.
"Behold, the days come, says the Lord, that I will make a new covenant with the house of Israel, and with the house of Judah: not according to the covenant that I made with their fathers, in the day that I took them by the hand to bring them out of the land of Egypt; which my covenant they broke although I was a husband unto them, says the Lord. But this shall be the covenant that I will make with the house of Israel: After those days, says the Lord, I will put my law in their inward parts, and write it in their hearts, and will be their God and they shall be my people. And they shall teach no more every man his neighbor, and every man his brother, saying, know the Lord, for they shall all know me from the least of them unto the greatest of them, says the Lord, for I will forgive their sin and I will remember their iniquity no more." Jer. 31: 31-34.
"I will ransom them from the power of the grave; I will redeem them from death: O death, I will be your plagues: O grave, I will be your destruction: repentance shall be hid from mine eyes." Hos. 13: 14.
"Who is a God like unto you, that pardons iniquity, and passes by the transgression of the remnant of his heritage? he retains not his anger forever because he delights in mercy. He will turn again, he will have compassion upon us. He will subdue our iniquities, and you will cast all their sins into the depth of the sea. You will perform the truth to Jacob, and the mercy to Abraham, which you have sworn unto our fathers from the days of old." Mic. 7: 18, 19, 20.
"And there was given him dominion, and glory and a kingdom, that all people, nations and languages should serve him: his dominion is an ever lasting dominion, which shall not pass away, and his kingdom that which shall not be destroyed." Dan. 7: 14.
"For as by one man's disobedience many were made sinners, so by the obedience of one shall many be made righteous." -Romans 5:19
Many = πολύς/ polys
Many "made sinners">>>>>many "made righteous".
The Equation of all equations!
Love's Goal
All that love is, God is, for God is love. As the negative side of love is unselfish - seeks not her own - so her positive side is concern for others, a deep, ardent, all consuming concern: dauntless, self-sacrificing, invincible. "Love never fails." Such is the divine essence and this it is that is imparted to the creature.
There can be no self-complacency with God, neither could He provide a self-satisfied salvation. Divine joy is in the fullness of love, and love is all-embracing.
To speak of a happy shepherd with an incomplete flock, or even of a happy flock with comrades missing, would be to malign both sheep and shepherd.
Heaven's joys will be full only when sin's sorrow cease. "Tis of mine" will be the yearning cry of the Good Shepherd spirit in the bosom of both saint and Saviour until the last of all the lost has been gathered home. Love cannot omit; His soul travail was for all. Neither can love abandon or forget. His purpose, as His promise, is "until He find it". Thus it is that He is yet to "see of the travail of His soul and be satisfied." And surely we too shall be satisfied when conformed to this likeness. Oh, the fullness of heaven's joy when sin's sorrows shall have ceased! -D. Buchanan-
99 is NOT enough!
"What I believe is so magnificent, so glorious, that it is beyond finite comprehension. To believe that the universe was created by a purposeful, benign Creator is one thing. To believe that this Creator took on human vesture, accepted death and mortality, was tempted, betrayed, broken, and all for love of us, defies reason. It is so wild that it terrifies some Christians who try to dogmatize their fear by lashing out at other Christians, because tidy Christianity with all answers given is easier than one which reaches out to the wild wonder of God's love, a love we don't even have to earn." -Madeleine L'Engle-
apokastastasis=
Universalism: a historical survey by Richard Bauckham (Professor of New Testament Studies)
https://theologicalstudies.org.uk/ar…_bauckham.html
MORE: more than we can ask or even think.
Thank you for providing the Andrew Jukes: The 2nd Death & The Restitution Of All Things resource - LOVE reading through it now!! God bless you!
Makes my heart jump for joy!
Dear Robot: Welcome to the E.U., you will find many wonderful resources here. The book by Andrew Jukes is a remarkable classic by a remarkable vessel of the Lord Jesus Christ. May you find enlargement of vision as you contemplate the glorious words of Restitution contained therein.
The Scope Of Restitution=
"But (now) to each one of us was (is) given the Grace down from (in accord with) the measure of the undeserved gift of the Christ. For this reason He (it) is constantly saying, "Going up (stepping up; ascending) into a height (unto [the] summit) He led (leads) captive a captive multitude [or: He led "captivity" captive] He gave (gives) gifts to mankind (or: to/for the men)." Now (but) this "He went up (ascended)," what is it if not (except) that He also descended (stepped down) into the lower parts (the under regions) of the earth (land)? The One stepping down (descending) is Himself also the One stepping (going) up (ascending) far above (back up over) all of the heavens, to the end that He may make the Whole full [or: may fill up everything (the All)]. -Jonathan Mitchell N.T.-
Weymouth New Testament Bible
https://www.biblestudytools.com/wnt/
"There is but one Lord, one faith, one baptism, and one God and Father of all, who rules over all, acts through all, and dwells in all. Yet to each of us individually grace was given, measured out with the munificence of Christ. For this reason Scripture says: 'He re-ascended on high, He led captive a host of captives, and gave gifts to men.' (Now this 're-ascended' --what does it mean but that He had first descended into the lower regions of the earth? He who descended is the same as He who ascended again far above all the Heavens in order to fill the universe."
Note
He will fill the Universe (everything)!
"For Christ also has once suffered for sins, the just for the unjust, that he might bring us to God, being put to death in the flesh, but quickened by the Spirit: By which also he went and preached unto the spirits in prison; Which sometime were disobedient, when once the longsuffering of God waited in the days of Noah, while the ark was in preparation, wherein few, that is, eight souls were saved thru water…Who shall give account to him that is ready to judge the quick and the dead…for this cause was the gospel preached also to them that are dead, that they might be judged according to men in the flesh, but live according to God in the spirit."
Question=
Do you think the Master of Reconciliation thinks more highly of broken pieces of fish and bread that nothing be lost/apollumi, but the ones for whom He makes atonement shall be lost?
"For God so loved the world that He gave His only begotten Son that whosoever believes into Him shall not be apollumi…"
God's Utter Extravagance=

"To say that sin, assuming it to be opposed to God, has the power of creating a world antagonistic to God as everlasting as He is, attributes to it a power equal at least to His; since according to this view, souls whom God willed to be saved, and for whom Christ died, are held in bondage under the power of sin for ever; and all this in opposition to the Word of God, which says that God's Son was "manifested that He might destroy the works of the devil…" -Andrew Jukes (The Restitution of all Things)
"To go on punishing for ever, simply for punishment's sake, shocks every sentiment of justice. And the case is so much worse when the punishment is really the prolongation of evil, when it is but making evil endless." -Thomas Allin, Christ Triumphant-
"The almighty maker of souls has various methods of restoring them to the divine image; it is impossible his power can fail; it is impossible for his image to be entirely obliterated; it is impossible that misery, sin, and discord can be eternal! –Alison R. Cockburn-
"This is the God of the gospel of grace. A God who, out of love for us, sent the only Son He ever had wrapped in our skin. He learned how to walk, stumbled and fell, cried for His milk, sweated blood in the night, was lashed with a whip and showered with spit, was fixed to a cross, and died whispering forgiveness on us all."
- Brennan Manning, The Ragamuffin Gospel: Good News for the Bedraggled, Beat-Up, and Burnt out-
Sin vs Grace
"Sin disturbed relations with God in everything and everyone, but the extent of the disturbance was not clear until God spelled it out in detail to Moses. So death, this huge abyss separating us from God, dominated the landscape from Adam to Moses. Even those who didn't sin precisely as Adam did by disobeying a specific command of God still had to experience this termination of life, this separation from God. But Adam, who got us into this, also points ahead to the One who will get us out of it.
Yet the rescuing gift is not exactly parallel to the death-dealing sin.
If one man's sin put crowds of people at the dead-end abyss of separation from God, just think what God's gift poured through one man, Jesus Christ, will do!
There's no comparison between that death-dealing sin and this generous, life-giving gift.
The verdict on that one sin was the death sentence; the verdict on the many sins that followed was this wonderful life sentence. If death got the upper hand through one man's wrongdoing, can you imagine the breathtaking recovery life makes, sovereign life, in those who grasp with both hands this wildly extravagant life-gift, this grand setting-everything-right, that the one man Jesus Christ provides?
Here it is in a nutshell: Just as one person did it wrong and got us in all this trouble with sin and death, another person did it right and got us out of it. But more than just getting us out of trouble, he got us into life!
One man said no to God and put many people in the wrong; one man said yes to God and put many in the right.
All that passing laws against sin did was produce more lawbreakers. But sin didn't, and doesn't, have a chance in competition with the aggressive forgiveness we call grace. When it's sin versus grace, grace wins hands down.
All sin can do is threaten us with death, and that's the end of it. Grace, because God is putting everything together again through the Messiah, invites us into life - a life that goes on and on and on, world without end. " -The Message-
Question=

Do you think the Master of Reconciliation thinks more highly of broken pieces of fish and bread that nothing be lost/apollumi, but the ones for whom He makes atonement shall be lost?

https://www.biblestudytools.com/lexi…/apollumi.html

"For God so loved the world that He gave His only begotten Son that whosoever believes into Him shall not be apollumi…"

"To say that sin, assuming it to be opposed to God, has the power of creating a world antagonistic to God as everlasting as He is, attributes to it a power equal at least to His; since according to this view, souls whom God willed to be saved, and for whom Christ died, are held in bondage under the power of sin for ever; and all this in opposition to the Word of God, which says that God's Son was "manifested that He might destroy the works of the devil…" --Andrew Jukes, The Restitution of all Things-

"To go on punishing for ever, simply for punishment's sake, shocks every sentiment of justice. And the case is so much worse when the punishment is really the prolongation of evil, when it is but making evil endless." -Thomas Allin, Christ Triumphant-

"The almighty maker of souls has various methods of restoring them to the divine image; it is impossible his power can fail; it is impossible for his image to be entirely obliterated; it is impossible that misery, sin, and discord can be eternal! –Alison R. Cockburn-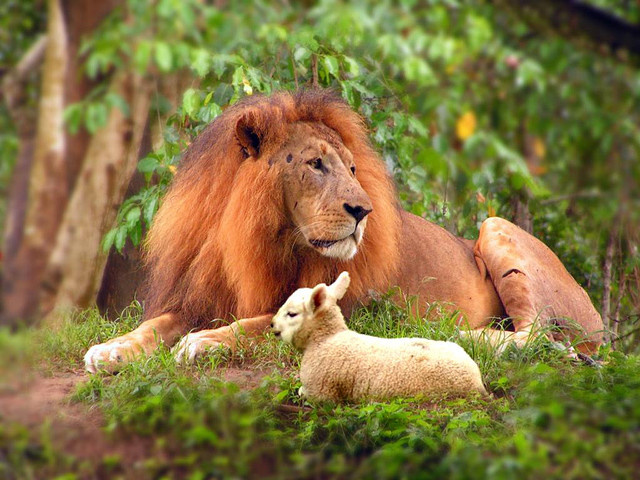 P.T. Barnum Why I Am A Universalist
(http://www.pacificuu.org/publ/univ/writings/barnum_why.html)
"Millions choose evil; may they not always choose it? The reply is that this is the sinner's will arrayed in battle against the Divine will. One must ultimately yield. I expect it will not be God. God will not coerce the sinner's will by force. He faces it as a consuming fire, and the day comes when the sinner sinks down beaten and cries out: 'God I yield.' Terrible is God against sin, foolish the soul that contests against Him…the sinner is one who has courage to enter a contest of his will against God's will. My orthodox friends tremble for God. I do not. I exhort them to 'have faith in God." -P.T. Barnum-