"The lotus is the most beautiful flower, whose petals open one by one. But it will only grow in the mud. In order to grow and gain wisdom, first you must have the mud — the obstacles of life and its suffering. … The mud speaks of the common ground that humans share, no matter what our stations in life. … Whether we have it all or we have nothing, we are all faced with the same obstacles: sadness, loss, illness, dying and death. If we are to strive as human beings to gain more wisdom, more kindness and more compassion, we must have the intention to grow as a lotus and open each petal one by one. " Goldie Hawn
"I have no desire to move mountains, construct monuments or leave behind in my wake material evidence of my existence. But in the final recollection, if the essence of my being has caused a smile to have appeared upon your face or a touch of joy within your heart, then in living I have made my mark"- Thomas L. Odem Jr.
'Until he extends the circle of his compassion to all living things, man will not himself find peace' - Albert Schweitzer-
'Too often we underestimate the power of a touch, a smile, a kind word, a listening ear, an honest complement or the smallest act of caring, all of which have the potential to turn a life around' - Leo Buscaglia
I believe that "God is love." -1 John 4:8-
I believe that "love never fails." -1 Cor. 13:8-
I believe that God never fails.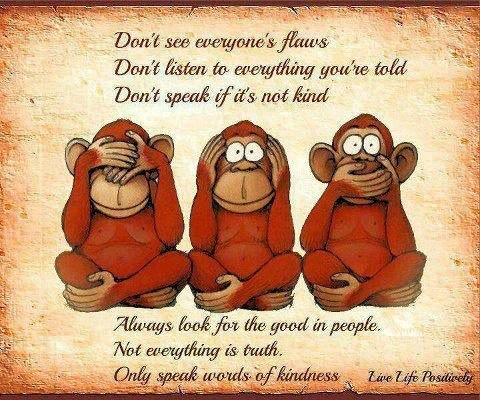 "A part of kindness consists in loving people more than they deserve." - Joseph Jouber
"Always be a little kinder than necessary." - J.M. Barrie
"Spread love everywhere you go: first of all in your own house. Give love to your children, to your wife or husband, to a next door neighbor… Let no one ever come to you without leaving better and happier. Be the living expression of God's kindness; kindness in your face, kindness in your eyes, kindness in your smile, kindness in your warm greeting." - Mother Teresa-
"What does love look like? It has the hands to help others. It has the feet to hasten to the poor and needy. It has eyes to see misery and want. It has the ears to hear the sighs and sorrows of men. That is what love looks like." St. Augustine
"Let there be peace on earth - and let it begin with me" - White Eagle
"In life you can never be too kind or too fair; everyone you meet is carrying a heavy load. When you go through your day expressing kindness and courtesy to all you meet, you leave behind a feeling of warmth and good cheer, and you help alleviate the burdens everyone is struggling with." -Brian Tracy
"You don't do kind deeds expecting kindness in return. You don't do kind deeds because you deem the recipient worthy. You do kind deeds, because it's who you are and you understand the powerful difference your gentle hand makes in this dreary world." - Richelle E. Goodrich
Be kind to each other, tenderhearted, forgiving one another, just as God through Christ has forgiven you.
" The Paradoxical Commandments
People are illogical, unreasonable, and self-centered.
Love them anyway.
If you do good, people will accuse you of selfish ulterior motives.
Do good anyway.
If you are successful, you will win false friends and true enemies.
Succeed anyway.
The good you do today will be forgotten tomorrow.
Do good anyway.
Honesty and frankness make you vulnerable.
Be honest and frank anyway.
The biggest men and women with the biggest ideas can be shot down by the smallest men and women with the smallest minds.
Think big anyway.
People favor underdogs but follow only top dogs.
Fight for a few underdogs anyway.
What you spend years building may be destroyed overnight.
Build anyway.
People really need help but may attack you if you do help them.
Help people anyway.
Give the world the best you have and you'll get kicked in the teeth.
Give the world the best you have anyway." -Kent M. Keith
Make a clean break with all cutting, backbiting, profane talk. Be gentle with one another, sensitive. Forgive one another as quickly and thoroughly as God in Christ forgave yo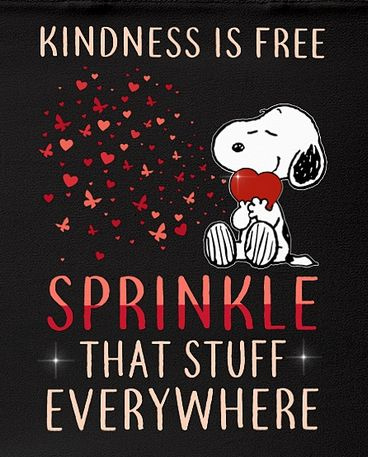 "For attractive lips, speak words of kindness. For lovely eyes, seek out the good in people.
For a slim figure, share your food with the hungry. For beautiful hair, let a child run his fingers through it once a day. For poise, walk with the knowledge you'll never walk alone." -Sam Levenson-
"We leave you a tradition with a future. The tender loving care of human beings will never become obsolete. People even more than things have to be restored, renewed, revived, reclaimed and redeemed and redeemed and redeemed. Never throw out anybody." -Sam Levenson-
Make a clean break with all cutting, backbiting, profane talk. Be gentle with one another, sensitive. Forgive one another as quickly and thoroughly as God in Christ forgave you.
What do Angels Look Like?
Like the little old lady who returned your wallet yesterday.
Like the taxi driver who told you that your eyes light up the world, when you smile.
Like the small child who showed you the wonder in simple things.
Like the poor man who offered to share his lunch with you.
Like the rich man who showed you that it really is all possible, if only you believe.
Like the stranger who just happened to come along, when you had lost your way.
Like the friend who touched your heart, when you didn't think you had one.
Angels come in all sizes and shapes, all ages and skin types.
Some with freckles, some with dimples, some with wrinkles, some without.
They come disguised as friends, enemies teachers, students, lovers and fools.
They don't take life too seriously, they travel light.
They leave no forwarding address, they ask nothing in return.
They are hard to find when your eyes are closed, but when you choose to see, they are everywhere you look.
So, open you eyes and count all your Angels — for you are truly blessed! -Kay McCrary-
"Be kind, for everyone you meet is fighting a harder battle." - Plato
"Attitude is a choice. Happiness is a choice. Optimism is a choice. Kindness is a choice. Giving is a choice. Respect is a choice. Whatever choice you make makes you. Choose wisely." - Roy T. Bennett-